Agency Capability Reviews provide a framework for supporting an agency's ability to meet future objectives and challenges.
The Agency Capability Model has as its heart the best parts of the Performance Improvement Framework (PIF), updated to reflect changes in public sector management. These changes include the Public Service Act 2020 and future expectations of the Public Service, as well as lessons from capability programmes in other jurisdictions.
The challenges New Zealand faces now will be different to those we experience in the next decade. Rapidly changing technology and demographics require constant adaptation. Expectations of our Public Service, and how services are delivered, will continue to evolve, particularly to meet the needs of our changing population. Agency Capability Reviews help us look ahead to this changing future and support Public Service leaders with the insights they need to prepare their agencies for the future.
The reviews are designed to support agency chief executives and senior leaders by providing an understanding of their agency's desired future state and what shifts are needed in its strategic direction and capability to successfully achieve it. Reviews are conducted by two independent Lead Reviewers selected for their insights and experience in organisational management and leadership. Review findings provide a shared understanding of the challenges, opportunities and next steps an agency should take to prepare for the future.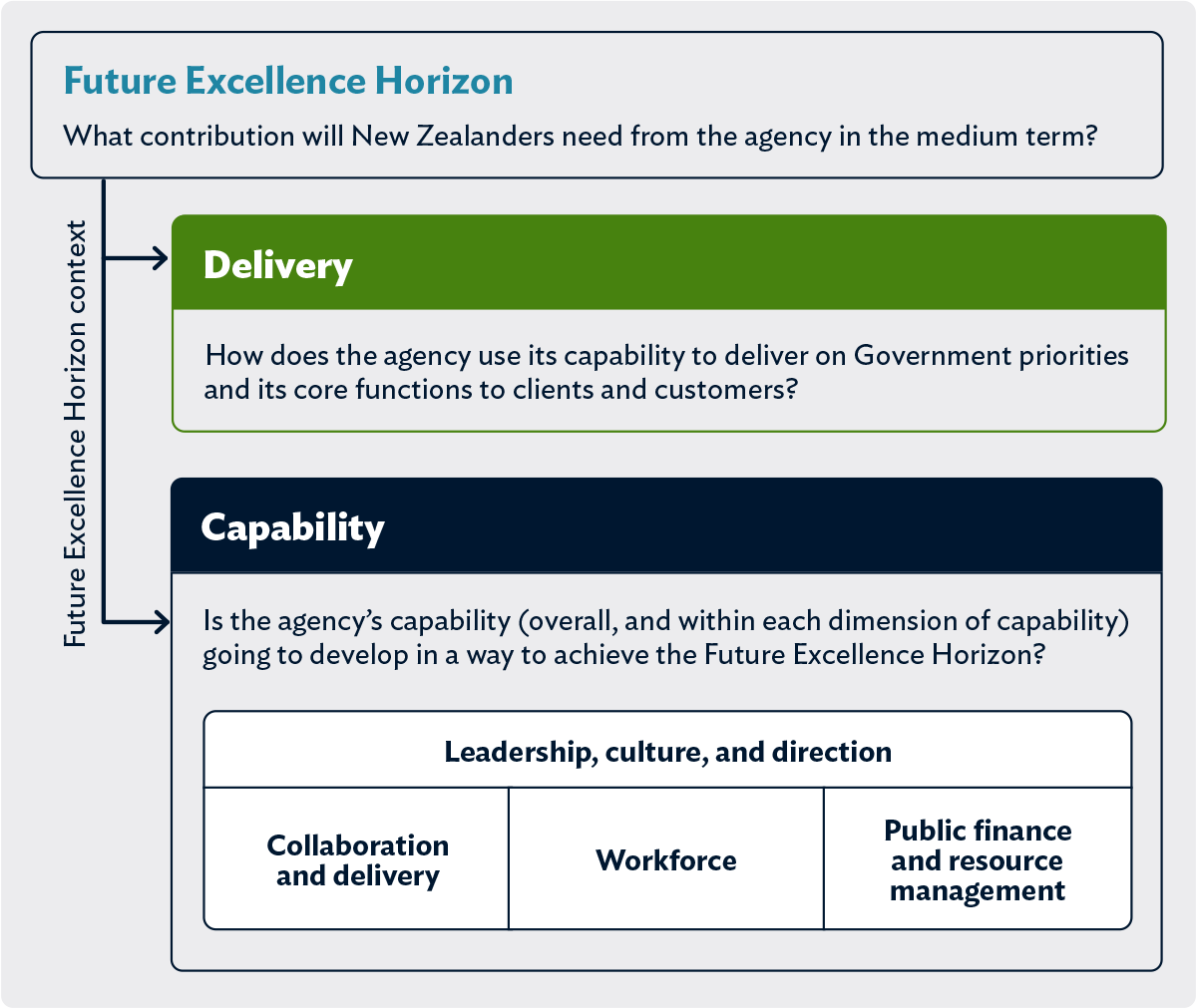 An Agency Capability Review considers the contribution that New Zealanders need from an agency over the medium term (usually 3-5 years, depending on the context). This is articulated as a future excellence horizon for the agency. Reviewers will also identify the key challenges that agencies are likely to face while they move towards the future excellence horizon.
Once the agency's future excellence horizon has been agreed, reviewers will consider the following aspects of agency capability:
Delivery

Leadership, culture and direction

Collaboration and delivery

Workforce, and

Public finance and resource management.
Review insights will support chief executives to build agency capability by providing a wider understanding of an agency's desired future state and the steps needed to get there.