Who is this guide for?
This guide is for ministers with statutory Crown entity responsibilities.3
This guide focuses on three types of statutory entities in the Crown Entities Act (CEA) – Crown agents, Independent Crown Entities and Autonomous Crown Entities. The guide refers to these entities, collectively, as Crown entities. See Crown entities for a list.
What does this guide provide to you as a minister?
It provides practical information and an easy reference point for you and your staff about:
your relationships with Crown entities, and how to engage with them on strategic matters important to the Government including the Crown's ownership and purchase interests
your role in the appointment and removal of board members, and in setting remuneration for board members, and
levers available for you to get the performance you want, and how others may assist you
how to request and get useful performance information from an entity
information flows between ministers, Crown entities and monitors (usually monitoring departments)4
public reporting by Crown entities
the importance of trusting, constructive and productive relationships between the Crown entity board and your monitoring department.
Other guides
A four-page summary of the guide is available. (PDF, 601 KB)A separate reference handout also shows in one place the available levers for ministers to get the performance they want. See Key levers(PDF, 144 KB).5 For more information, refer to It Takes Three: Operating Expectations Framework, which sets out the roles and responsibilities of the minister relative to a Crown entity board and the monitoring department.
What is a Crown entity?
Crown entities are part of government and are owned by the Crown. Establishing a Crown entity reflects a decision by Parliament that a function or functions should be carried out at ʻarm's-length' from ministers. The CEA provides the framework for establishing, governing and operating all categories of Crown entities. It also clarifies the roles, responsibilities and the accountability relationships between Crown entities and their boards, responsible ministers, and their departments.6
This arm's-length separation from ministers may be required to credibly distance ministers from involvement in decision-making that relates to individual persons or organisations (e.g. around funding culture and heritage), and to provide access to the broader range of skills that a governance board brings. Ministers are answerable to Parliament for overseeing and managing the Crown's interests in, and relationships with, the Crown entities in their portfolios.
A list of Crown entities is maintained by the Te Kawa Mataaho Public Service Commission (the Commission) as part of New Zealand's Central Government Organisations. Lists of all Crown entities by Ministerial portfolio can be found in Directory of Ministerial portfolios.
Crown entities matter because they deliver many public services of importance to New Zealanders and often are the ʻface of government'.
Categories of Crown entities
Crown entities are defined under the CEA as falling within five categories:
Statutory entities comprising:

Crown agents (e.g. ACC, District Health Boards)
autonomous Crown entities (ACEs, such as Te Papa)
independent Crown entities (ICEs, such as the Commerce Commission)

Crown entity companies (e.g. Crown Research Institutes, and other companies such as Radio New Zealand)
Crown entity subsidiaries
School boards of trustees
Tertiary Education
In addition, sections of the CEA (Part 4 in particular) apply to companies listed on Schedule 4A of the Public Finance Act.
As mentioned above, this Guide focuses on statutory entities.
Crown agents and the Public Service Act 2020
Crown agents, the type of Crown entity closest to ministers, are also included in the legal definition of the Public Service for the purposes of shared principles, values, spirit of service and standards of integrity and conduct in Part 1 (subparts two and four) of the Public Service Act 2020. This is because Crown agents deliver by far the greatest number of services to New Zealanders and are the ʻface of government' to many New Zealanders and how people experience these important government services.
However, Crown agents retain their Crown entity status under the CEA 2004 and their establishment legislation. This means Crown agents also remain outside the core Crown which includes departments and ministers of the Crown.7
The Public Service Act sets out five public service principles:
politically neutral
merit-based appointments
free and frank advice
open government
Crown agent boards are responsible for ensuring the entities they govern uphold the public service principles when carrying out their functions.
This is a collective duty of the board under the CEA that is owed to the responsible minister in accordance with s58 of the CEA.
Provisions of the State Sector Act 1988 that applied to all Crown entities generally were carried over to the Public Service Act 2020. A detailed information sheet on the Commission website clarifies these provisions and any provisions that apply generally to Crown entities or specifically Crown agents.8
Ministerial control
The extent to which a minister has control over a statutory Crown entity varies by category. Your powers to direct on government policy vary depending on the type of statutory entity. There are some limits to your powers, for instance you cannot give directions to a Crown entity on a statutorily independent function and you cannot direct a Crown entity, board member, employee or office holder to provide a service to, or bring about a particular result, in respect of a particular person or persons. The table below summarises the differences in ministerial powers for the three types of statutory Crown entities:9
| | | | |
| --- | --- | --- | --- |
| | Crown agent | Autonomous Crown entity | Independent Crown entity |
| Power to appoint board members | Minister | Minister | Governor-General, on recommendation of minister |
| Power to remove board members | Minister's discretion | Minister, for justifiable reason | Governor-General, for just cause, on advice of minister. Attorney- General consulted |
| Power to direct on government policy | Must "give effect to" policy that relates to the entity's functions and objectives if directed by minister | Must "have regard to" policy that relates to the entity's functions and objectives if directed by minister | No power to direct, unless specifically provided for in another Act10 |
| Power to set overall direction and annual expectations | Minister | Minister | Minister |
| Whole of Government approach | Must "give effect to" if directed by ministers of Finance and for the Public Service | Must "give effect to" if directed by ministers of Finance and for the Public Service | Must "give effect to" if directed by ministers of Finance and for the Public Service |
You may want to direct11 a Crown agent or Autonomous Crown Entity on government policy when:
you want to provide clarity or consistency of strategic and/or policy direction
a board asks for clarification or a ministerial mandate before implementing a policy, or
Crown entities and departments need to work together to achieve
A policy direction must relate to the individual entity's functions and objectives. As discussed below, there are separate powers of direction available to the Minister for the Public Service and Minister of Finance, acting jointly, to issue directions to support a whole of government approach.
The Public Service Act 2020 enables a more adaptive, agile and collaborative Public Service and includes stronger recognition of the role of the Public Service in supporting the partnership between Māori and the Crown.
Who are the key players?
The diagram below shows the relationships between key players with responsibilities and interests relating to individual Crown entities, with descriptions overleaf.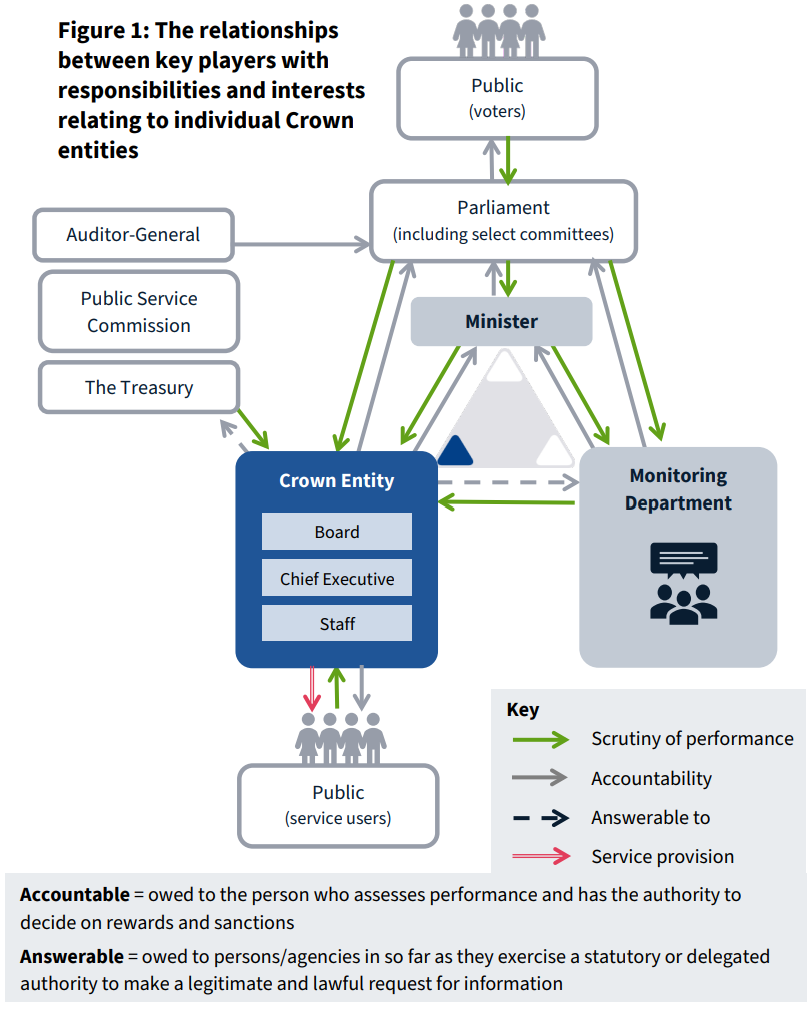 Functions matter
While the legal form and category of a Crown entity determines your level of control over a statutory Crown entity, the critical issue for you to focus on are the nature of the entity's functions. You should ensure the board is clear that services and outcomes for New Zealanders paid for with public money is your and the government's priority, including the conduct and integrity of how they carry out their business.
You should encourage the board to reflect on the purpose, principles and values that apply to the public service and the general ethos of the Public Service Act and have a conversation about the principles.
Ministers oversee and manage the Crown's interests in the entities in their portfolios and remain answerable for their performance. As discussed below, ministers can direct a Crown entity of any type to change its Statement of Intent (SOI) and Statement of Performance Expectations (SPE).
Formal powers of direction are likely to be used infrequently. This is because ministers tend to prefer voluntary compliance with expectations and because other tools (including annual engagement with the board on an entity's strategic direction) work well in conveying ministers' expectations. The CEA does not authorise you to direct a Crown entity in relation to its statutorily independent functions [section 113].
Description of terms
Public:
May have a variety of interests in a Crown entity, for example as a client or service recipient, as a funder (through specific levies and charges or general taxes) and/or as a member of regulated groups and industries.
Parliament:
Establishes, disestablishes, merges or changes functions of Crown entities through legislation; agrees much of the Crown funding through the budget process; scrutinises entity performance (e.g. via Select Committee processes) – among other roles.
Office of the Auditor-General (OAG):
Statutory auditor of all public entities, including Crown entities. Scrutinises Crown entity accountability, reporting and performance information on behalf of Parliament. The Auditor-General will provide you with a letter summarising the entity's annual audit and, where applicable, issues to be addressed.
Responsible minister:
Oversees and manages the Crown's interest in the entity including setting expectations, and exercises statutory responsibilities and powers relating to the entity. Is answerable to Parliament for the performance of the entity (including by presenting entity strategic planning, and annual performance and reporting information). You may also issue directions and letters of expectation.
Board:
The governing body of the entity, with the authority to exercise its powers and perform its functions, makes decisions about its operations and appoints its chief executive (where applicable). It's accountable for driving and monitoring entity performance.
Monitoring department:
Supports the responsible minister to fulfil their role and undertakes other statutory functions such as administering appropriations and legislation as required. Monitoring is the process whereby you obtain independent advice, usually via the monitoring department, about a Crown entity's performance and how any risks will be managed.
Minister of Finance and Minister for the Public Service:
Provide system-wide oversight of Crown entities' performance (through Finance and Public Service portfolios, and as part of Cabinet), e.g. the Minister for the Public Service has information gathering powers and the Minister of Finance has powers in relation to accountability documentation and financial provisions for entities. These two ministers have a statutory power to jointly issue directions to Crown entities that support a whole of government approach. They also express the Government's expectations of Crown entities through the Enduring Letter of Expectations.
Te Kawa Mataaho Public Service Commission and the Treasury:
The Commission and the Treasury jointly administer the CEA. The Commission is responsible for Parts 1 (preliminary provisions), 2 (establishment and governance), 3 (operation), and 5 (miscellaneous), and the Treasury is responsible for Part 4 (reporting and financial obligations).
Under the Public Service Act, the Commission also provides advice to Crown entities on integrity and conduct, in addition to a range of other functions (see further information in chapter 1 on Relationships, Roles and Responsibilities).
What are your roles and responsibilities?
As the responsible minister, your role is to oversee and manage the Crown's interests in, and relationships with, their Crown entities, and to carry out any statutory responsibilities. To do this, you need to:
make sure a qualified and effective board is in place, with an experienced and qualified chair to lead the entity through the appointment, reappointment and removal of board members
participate in setting the strategic direction and annual expectations of Crown entities (which may include improving the alignment of multiple agencies in an area) and in some circumstances issuing directions and letters of expectation.
agree to the levels of funding for reportable outputs
review entity performance and results
manage risks on behalf of the Crown
answer to Parliament for the performance of the
How can your monitoring department help you?
Your monitoring department acts as your agent and provides you with information, analysis and advice about the effectiveness, efficiency and financial performance of the Crown entity. The monitoring department should focus monitoring on major opportunities and risks. Monitoring should be proportionate to:
your needs
the scale of investment in, and expenditure of, the Crown entity
financial and other risks posed by the Crown entity, and
the opportunities that could be realised across your area of responsibility
the primary monitoring performance of a strong
The role of the monitoring department is discussed in more detail in section 5 of this guide – How can your monitoring department assist you?
Contact for questions and feedback
The Public Service Commission and the Treasury will keep these guidelines under review. Questions or suggestions for revision and improvement are welcome. These can be sent to: enquiries@publicservice.govt.nz.
---
3The main body of this guide focuses on statutory Crown entities. Appendix 2 deals with Crown entity companies and Public Finance Act Schedule 4A companies.
4The term "monitoring department" is used throughout this Guide, although the minister may choose a different body to monitor the entity.
5The levers hand-out is necessarily generic, as entities also have their own legislation, which may change how a particular lever is used or provide further specific levers. It is, however, a useful basis for a discussion with the monitoring department about your options.
6Crown entities are subject to both their enabling legislation and the CEA. If there is a conflict between a Crown entity's own enabling legislation and the CEA, the CEA prevails unless the entity's enabling legislation specifically provides otherwise. The Education and Training Act 2020 is the primary statute for the establishment, governance and operation of School Boards of Trustees and Tertiary Education Institutions. Crown agent boards, specifically, are also responsible for ensuring the entities they govern uphold public service principles.
7Section 2 of the Public Finance Act defines the ʻCrown'. The Crown or the Sovereign — means the Sovereign in right of New Zealand; and includes all ministers of the Crown and all departments; but does not include: an Office of Parliament; or a Crown entity; or a State enterprise named in Schedule 1 of the State-Owned Enterprises Act 1986; or a Schedule 4 organisation; or a Schedule 4A company; or a mixed ownership model company; or an entity named or described in Schedule 6. It does not include the Reserve Bank, and the New Zealand Superannuation Fund. Core Crown excludes Crown entities and state- owned enterprises (including the mixed ownership model companies).
8See Statutory Crown entities and the Public Service Act 2020.(PDF, 237 KB)
9The table is based on sections 103, 104, 105 and 107 of the CEA. This table expresses the most general state of affairs under the Act; variations may be provided for expressly in a particular entity's Act. Sections 147 and 149J make provision for you to direct amendments to the entity's SOI and SPE.
10Statutory Crown Entities: A Guide for Departments advises departments to ensure that ministers are advised not to act in any way that could imply a direction to an independent Crown entity.
11Directions may only be given after consultation with the Crown entity. The the House of Representatives. Directions must be reviewed by the minister or
direction must also be published in the New Zealand Gazette and presented to ministers, as set out in section 115A of the CEA.