Cabinet has now approved funding to extend pay equity to all social workers and employees undertaking social work in community and iwi organisations.
This means that the benefits of the original pay equity settlement for social work in 5 Non-Government Organisations will now be delivered to social workers across the entire community and iwi sectors. This funding is based on the extensive data collection process undertaken by Te Kawa Mataaho this year. This extension addresses longstanding sex-based undervaluation of social work and ensures the pay these workers receive accurately reflects their skills, responsibilities, and effort.
Key facts
Over 5000 workers are covered by the extension. These employees are employed by a wide range of community and iwi organisations across social, health, Kaupapa Māori, education support and disability services.
The extension provides on average a 27% pay correction addressing the sex-based undervaluation of this workforce.
The effective date for the new pay rates is 1 July 2023. The process to deliver funding to employers and employees will not be complete by this date but all employers and employees can be assured that their funding and rates of pay will be backdated to this date.
The extension also provides employees guaranteed access to professional supports such as professional registration fees, professional association fees, supervision, cultural supervision, and professional development.
To implement the extension, government funding agencies (funders) will vary contracts with employers to deliver the additional funding.
Employers are then required to pass this additional funding on, in full, to workers through updating employment agreements.
Employers are required to provide a report to funding agencies to ensure all the additional funding is being passed on to employees
Funders are required to review the funding they provide in contracts to ensure employers can maintain the new pay equity rates for social work. This review will happen:

at the point of renewing/renegotiating contracts
when negotiating new contracts; or
at least every three years for longer-term existing contracts.
Next steps
Funders are beginning the process of varying contracts for services and will be in touch. For initial information on implementation and further guidance for employers please keep an eye on this website over the next week.

New pay system
Roles are translated from their current salary to the appropriate step on the new pay spine based on the category of work they are in and the number of years of relevant experience in that category.
New guidance available: please see the new pay system guidance in the pdf below.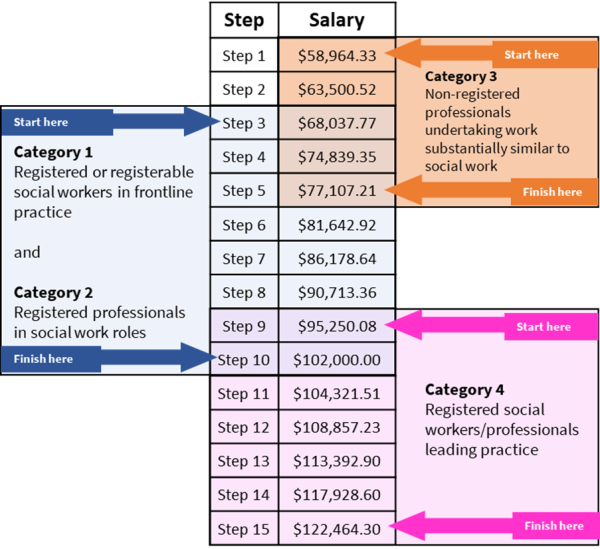 Guidance on the new pay system
The new pay system established in the original settlement in 5 NGOs now applies to all workers undertaking social work across the wider community and iwi social sector.
Please see the below pdf for more information on the new pay system, new pay rates and other benefits that are being extended.
Who's covered by this pay equity extension
The social work pay equity extension covers social workers and employees undertaking social work across community and iwi organisations. For more information about who is covered please see the following guidance: Who is covered - categories of work(PDF, 298 KB)
Guidance for funding agencies
The Pay Equity Taskforce, along with the Ministry of Business Innovation and Employment (MBIE) Procurement Capability Team and a working group of funding agency officials have developed template contract variation clauses to support funding agencies with implementing the social work pay equity extension.
For a copy of the template clauses please see the MBIE website here: Procurement.govt.nz
For guidance regarding the application of these clauses please see here: Guidance for template clauses(PDF, 149 KB)
Questions and answers for workers
I have heard funding for the extension has been approved, what happens next?

Government funding agencies will work with your employer to vary funding agreements so that the additional funding for pay equity can be passed through. As there are over 1,000 funding arrangements across government to be varied, all parties are working together to complete this work as quickly as possible. New pay rates will be effective from 01 July 2023 – see more on this below.

What will my new salary be?

A new pay system has been introduced for all workers undertaking social work in the community and iwi sectors. You can see a copy of this pay system which details the new rates here(PDF, 232 KB).

Your employer will need to translate your current salary to the appropriate step on the new pay spine, based on:

the

category of work

you are in are in, and

the number of years of relevant experience you have in that category.

The pay system also introduces step-based pay progression. Workers will progress through the steps in this system no less than annually, unless there are performance issues which your organisation is proactively managing with you.

How is 'relevant experience' defined?

Relevant experience includes employment (part-time or full-time) in any role that fits within a worker's current category of work. Relevant experience includes work outside your current role and/or place of employment if the work is in the same category as you are currently in.

For a social worker, this is experience in a social work role while being qualified as a social worker, (this can include placement time in year 4). If you are leading practice then it is your years of experience in that role, not your total years of social work experience that you count.

How is 'relevant experience' defined for category 3 workers? 

Relevant experience for category 3 workers is defined in the same way as the other categories. This means that to be considered 'relevant', any prior experience must be in a role that also meets the criteria of category 3.

To be considered relevant, experience must meet the following criteria:

Work that is substantially similar to social work.

80% or more of your day-to day work overlapped with, or operated in, a substantially similar way to registered social workers.

You received supervision/oversight and/or worked with a registered social worker.

If your prior experience undertook any of the following as your MAIN activity it is not considered 'relevant experience' for category 3:

financial mentoring

community navigation - connecting people to other social services

administration

youth mentoring or coaching

basic needs assessment and referral

care and support work as covered by care and support workers legislation

counselling

When will my salary change?

The time that workers get the increase may differ between organisations. Employers and Funders are working together to vary funding arrangements to support the new rates to be implemented.

The new rates are effective from 1 July so you will receive backpay from this date when the increases do come through to you. All parties will work as quickly as possible to get the new rates implemented.

Why is backpay calculated to only 1 July 2023?

The extension is a proactive process that seeks to ensure all workers across a sector have access to equitable rates of pay, without the need to go through an entire pay equity claim process.

Backpay for an extension is calculated from the point at which funding is made available to funding agencies. This provides workers assurance that if funding is delivered to employers at different times, workers will not be financially disadvantaged.

Is my employer required to pass the funding on?

Yes. For your employer to receive the additional funding, they must agree to pass the funding on in full to workers. This means employers are required to update employment agreements and ensure workers in scope are paid correctly. Employers are also required to provide annual confirmation that workers in scope are being progressed through the salary steps in the pay spine.

How do I know if my employer has engaged in the extension process?

In the first instance, please speak to your employer. All employers were asked to provide data regarding their workers, current rates of pay and years of relevant experience. This information was used to calculate the level of additional government funding required by each employer to deliver to workers in scope of the extension.

If you are concerned that your employer has not engaged and your role is in scope, please contact the Public Service Association Te Pūkenga Here Tikanga Mahi (PSA):

Nanette Cormack (she/her)

027 232 4246

Free phone 0508 367772

The PSA are the union who led the original claim in the 5 NGOs and have been working to support the extension to the rest of the government-funded sector.

I'm in a social work role that's not government funded, what happens to my pay?

Unfortunately, the extension does not cover roles that are fully funded by philanthropic contributions, grant funding, fundraising or other non-government funding streams. The scope of the extension is only for government-funded roles. This means your employer will not be receiving additional government funding through the extension process for any roles that are not currently funded by a government contract/agreement. It will be up to your employer to work with your organisation's non-government funders to see if their funding streams can be increased.

You may still wish to negotiate your pay and terms and conditions of employment with your employer, as is your legal right. If you would like support with this, please contact your union. If you are not a union member, then please reach out to the PSA.

What are the other benefits of the settlement that are being extended?

Alongside the introduction of the new pay system and new pay rates, the extension also provides funding for professional support.

The suite of professional support includes funding for:

professional cultural supervision

professional supervision

professional membership fees

practicing certificates

How will the funding for professional support be applied?

The elements of professional support you are entitled to depends on which category of work you are in. Registered social workers and other registered professionals in social work roles have additional costs to cover for professional membership and maintaining practicing certificates.

Your employer is obligated to ensure you have appropriate access to the supports you are eligible for either through providing additional allowances or agreed access to these supports to the value of the funding amount.

The below table shows the funding that has been made available for each element of professional support depending on the category of work.

Professional Support Components

Social Work Category

Professional Development

Cultural Supervision

Professional Supervision

Professional Membership

Practicing Certificate

Total

Category 1

$1,000

$2,000

$1,500

$225

$605

$5,330

Category 2

$1,000

$2,000

$1,500

$225

$605

$5,330

Category 3

$1,000

$2,000

$1,500

$0

$0

$4,500

Category 4

$1,000

$2,000

$1,500

$225

$605

$5,330

Does the additional funding for professional support get added to my salary?

How the funding is applied to ensure you have access to the support you are entitled to should be negotiated in the process of updating employment agreements.

For example, you employer may propose paying for your professional membership fees and/or your practicing certificate directly with the body who grants these rather than passing on the funding workers to manage.

Additionally, what professional development activities the professional development funding is used for and how it is applied should consider the needs of individual employees and teams. For example, carrying funding over financial years to attend a more expensive course, or pooling funding across employees to best meet the need of a whole team.
Questions and answers for employers
I have heard funding for the extension has been approved, what happens next?

The next step is for funding agencies to vary contracts with employers to deliver the additional funding. With over 1000 government contracts requiring variation, across multiple funding agencies, the variation process will not happen overnight. However, all parties are working as quickly as possible to implement the contract variations. Your funder/s will be in touch in the next 4-6 weeks to work through this with you.

How much additional funding will our organisation receive?

The information your organisation provided as part of the data collection process has been used to calculate the amount of additional funding required for you to deliver the new rates and additional professional supports to your employees.

This calculation is based on:

the number of FTE delivering services funded by each contract as at 14 February 2023

translating worker FTEs to their new step on the

pay spine

maintaining step-based pay progression for workers over the term of the contract

delivering additional professional supports to workers based on their category of work.

For more information on the new pay system, translation principles and professional support funding, please see here.

How is the amount of funding calculated?

The data you provided was used to calculate the amount of funding that will be applied to each contract variation.

The data collection gathered information about the number of FTE in scope attributed to each contract (as at 14 February 2023) and the:

category of work of each FTE

the current salary of workers that these FTE represent

the years of relevant experience each worker has

elements of professional support currently funded by the contract.

This information allowed us to calculate the level of funding required to:

translate each worker to the appropriate step on the new pay scale

maintain each worker's step-based pay progression over time

cover the cost of professional support elements workers are eligible for.

How will the new funding be passed through to employers?

Funding will be applied through a variation to contracts/funding agreements. It does not matter what kind of contract you have, whether you are funded for FTE, outputs, outcomes, or fees for services etc. The contract variation process will apply an addendum to these agreements for the additional funding.

This means, for some organisations, you will receive multiple contract variations across different services and funders. The variation will not change the core terms and conditions of the contract and will not extend the term of the contract.

You will receive funding for the following elements through to the end of each contract term:

the initial translation of employees identified through the data collection onto their new position on the pay scale

funding for step-based pay progression for these employees for the remainder of the contract term

professional supports

What can I do if I missed the closing date to submit data?

Funding for the extension was calculated based on the data we received. If your organisation did not submit data, you will not be covered by this immediate extension. The next opportunity to negotiate additional funding for your workers is through the standard contract negotiation points, i.e., at contract renewal or when a new contract is issued for the services these workers deliver.

The data collection process required a closing date, as it was not possible to keep collecting data in an ongoing way. The data we collected told us how much funding was required to correct pay and provide professional support funding for the workers identified. Workers that were not identified through the data collection process are not captured in the overall funding available for the extension.

What can I do if I provided incorrect data?

As above, we are unable to seek additional funding through the extension process for workers who were not accurately captured in the data collection. For example, if you:

recorded a worker in the wrong category and their correct category of work is paid at a higher band;

did not include a worker in the data who you now think is covered;

incorrectly recorded the level of FTE and the correct FTE level is higher than what you submitted;

it will be your responsibility as an employer to ensure your employees are paid the appropriate rates until your contracts come up for renewal or renegotiation. For small funding discrepancies, there may be an opportunity to negotiate with your funder in this round of variations, however, the expectation is that this is an employer responsibility.

Please do not email the Pay Equity Taskforce with requests to correct data, as this is now no longer possible – the data collection process has ended.

Some of the roles I recorded as vacant are now filled, what do I do?

Vacant roles were costed at the median corrected salary for the category of work the vacancy is in. If the person you have employed to fill the role has more than the median level of relevant experience, and therefore will be translated to a higher step on the pay spine, you will need to manage this difference either through negotiation with your funder, or through your own funding.

How will roles be funded that are part social work and part admin or other tasks?

The data collection asked you to attribute proportions of FTE to government contracts depending on how a worker's time is divided. This means if you have a worker whose role is split between different core tasks, or services, you should have recorded this in your data return.

Government funding is only available for social work and cannot be applied to roles or parts of roles outside the scope of the extension.

For example:

Jo works full time (40 hours per week). She works about 20 hours a week as a category 3 worker seeing clients in the Housing First service. In this service she works alongside registered social workers. The remaining 20 hours a week, she spends providing administrative support to the wider team.

Jo is recorded in the data return as 0.5FTE in category 3 attributed to the Housing First contract. Jo's employer will receive funding for this 0.5FTE the remaining 0.5FTE will not receive additional funding.

How Jo's total salary is made up will be up to Jo and her employer to negotiate, as long as the 0.5FTE of her salary attributed to the Housing First work is remunerated at the new pay equity rate.

How will staff turnover be handled through this process?

There is a recognition that staff and salaries shift all the time in organisations, however, the amount of funding for the extension needed to be calculated at a single point in time. This means your data cannot be updated to reflect any changes that may have occurred since 14 February 2023. Small unders and overs are to be expected and will need to be managed by each employer. You can discuss changes to social work staff volumes as part of your usual contract negotiation processes with your funder.

Are counsellors included in the extension?

The key question is whether the counsellor is undertaking a social work role. This is because the pay equity settlement relates to the nature of the work being done. To be included in category 2 under the extension, counsellors (like all other registered professionals in this category), the counsellor must:

be filling a social work role as their primary function

be in a position that, if it were to become vacant, would be advertised to be filled by a registered social worker

be working with or overseen by a registered social worker

Counsellors whose main task is delivering 1:1 talk-based therapies are not in scope of the extension.

I have a highly experienced kaimahi who is currently engaged in the Section 13 experience-based pathway to social work registration. What category of work should they be in? 

If this kaimahi has begun the process of pursuing registration through the experience-based pathway and has been deemed eligible by the Social Workers Registration Board, they should be included in category 1. Category 1 includes "registerable" social workers.

For more information on the experience-based pathway please see here: Experience pathway: S13 | Social Workers Registration Board (swrb.govt.nz).

What about my other (non-social work) employees who do important mahi to support whānau and communities?

We recognise there are many roles in community and iwi organisations that are critical to delivering better outcomes for whānau and communities that have not been included in this process. The Public Service Association Te Pūkenga Here Tikanga Mahi (PSA) is currently working on a second claim for social service workers. This claim is in the early stages but will capture a significant number of roles within the community and iwi sectors. For example, some roles that might be covered are counsellors, administrative workers, managers, and navigators.
Contact us for more information
If you would like more information, you can email us.
Email: payequityextension@publicservice.govt.nz
For more information on the claim for social service workers please contact:
Nanette Cormack (she/her)
027 232 4246
Free phone 0508 367772
Social Service Providers Te Pai Ora o Aotearoa is the member-based organisation coordinating and representing the employers involved in the social service workers claim, the same role they played in the social work claim. You can always reach them on pay equity matters via payequity@sspa.org.nz and they will be continuing to update their website www.sspa.org.nz