Tā te Papa Pounamu kaupapa mahi
Papa Pounamu Public Service work programme
Papa Pounamu sets the diversity and inclusion work programme for the wider Public Service. It covers 5 priority areas that are focused on making the most positive impact across all diversity dimensions.
Te whakapai ake i te kanorau me te whai wāhitanga i roto i te Ratonga Tūmatanui
Improving diversity and inclusion across the Public Service
The Public Service is committed to achieving better outcomes for all diversity groups and leadership from Papa Pounamu is designed to help Public Service organisations achieve their diversity and inclusion goals and obligations. Public Service chief executives have agreed to make this work mandatory in their organisations.
To help the Public Service deliver on the Papa Pounamu commitments we collaborated with organisations to develop tools and resources. These tools and resources mean that organisations can continue working towards diversity and inclusion commitments despite changing environments such as COVID-19.
Ngā mahi tōmua e 5
Focusing on 5 priorities
Papa Pounamu was established in 2017, in consultation with the Public Service chief executives, to consistently grow our diversity and inclusion capability through a work programme for the Public Service. Diversity has many dimensions — and these can intersect. The Public Service needs to recognise and value the unique aspects of all diversity dimensions. Based on our evidence we need to make better progress for ethnic groups, women, disabled persons and Rainbow communities.
Papa Pounamu's current work programme focuses on 5 priority areas. Chief executives have agreed to make these mandatory in their organisations to help strengthen diversity and inclusion capability across the Public Service. The mandatory requirements help chief executives meet their diversity and inclusion obligations under the Public Service Act 2020, which requires all chief executives to actively promote diversity and inclusion in their respective agencies.
These 5 areas work together to create positive impacts across all diversity dimensions. The 5 focus areas are designed to work together to create positive impact across all diversity dimensions. This means we take a deliberately intersectional approach to effecting change. The 5 areas of focus are those most likely to help the Public Service create fair, diverse and inclusive workplaces reflective of the communities we serve.
Te Urupare i te Mariu | Addressing bias: Addressing bias is a critical factor in ensuring everyone in the Public Service has fair opportunity in recruitment, career progression and development opportunities.
Te whakawhanaungatanga | Building relationships: Inclusion and belonging are dependent upon having a diverse range of supportive relationships in our workplaces. We intentionally draw upon those relationships to create positive change.
Te āheinga ā-ahurea | Cultural competence: Reflecting the significance of Māori Crown relationships and building our cultural competence and confidence across a broad range of cultures is integral to ensuring inclusion.
Ngā tūhononga e kōkiritia ana e ngā kaimahi | Employee-led networks: Having a space and mandate to connect with others with shared lived experiences supports people to bring their whole selves to work. Employee-led networks provide richness to workplaces and contribute valuable subject matter expertise.
Hautūtanga Ngākau Tuwhera | Inclusive leadership: Diversity and inclusion capability across the Public Service depends on strong, inclusive leadership.
These 5 priority areas are additional to the existing diversity and inclusion commitments that many organisations will have. They are likely to relate to or complement existing commitments.
Te angitu me tōna āhua
What success looks like
Diversity and inclusion work is ongoing work. Although it does not have an endpoint, our high-level success indicators help us determine how our work is progressing as we all continue to learn and evolve:
discrimination is eliminated: all aspects of public service practices are free from bias and discrimination
the Public Service is fully accessible, and everyone can participate: the Public Service provides a welcoming environment for everyone
we understand the make-up of our workforce and society: we collect consistent, good quality data
we report on diversity and inclusion progress, and revise our plans as needed: we are transparent about progress and whether our actions generate the desired outcomes.
Papa Pounamu sits alongside our separate, but related, work programmes to strengthen the public sector capability for Māori Crown relationships, building positive and safe workplaces and closing Public Service pay gaps. Together these programmes of work are developing our Public Service of the future.
Kia Toipoto — Public Service Pay Gaps Action Plan 2021–2024
What progress we are making
Each year we report on the progress against Papa Pounamu commitments based on information from agencies' annual reports. The diversity and inclusion system report can be supplemented with further details from the agency. We drew on information from the Public Service Workforce Data.
This system reporting on Papa Pounamu fulfils the recommendation from the Royal Commission of Inquiry into the terrorist attack on Christchurch Masjidain.
For 2022 (covering 2021-2022 FY), the State of the Public Service reported on progress that agencies made in implementing the Papa Pounamu commitments. Te Kahu Tuatini | State of the Public Service includes a chapter on diversity and inclusion in the Public Service. Alongside the chapter, case studies from the 2022 annual reports are available.
Diversity and inclusion chapter of Te Kahu Tuatini | State of the Public Service
System progress against Papa Pounamu commitments 2021
Papa Pounamu leadership
Papa Pounamu is co-chaired by Gaye Searancke, Chief Executive of Land Information and Peter Mersi, Commissioner and Chief Executive of Inland Revenue. Gaye and Peter are also the functional co-leads for diversity and inclusion in the Public Service. The Public Service Commissioner appointed them to these roles, which are responsible for:
leading diversity and inclusion progress in the Public Service
championing diversity and inclusion and supporting chief executives to meet their obligations and expectations in the Public Service Act 2020.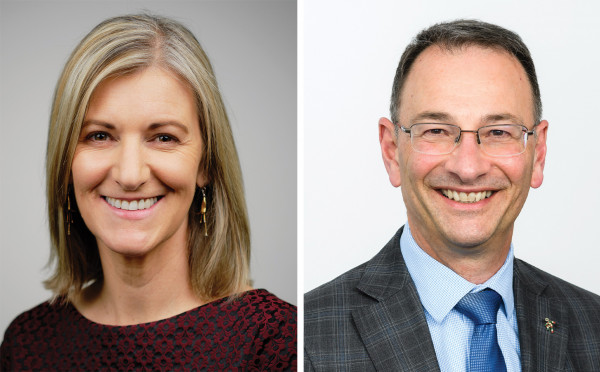 Gaye Searancke and Peter Mersi